On the Eater
Ramen is taking over. What was once a buzzy food just in big cities like New York, Los Angeles, and San Francisco is now popping up all over the country, including cities such as Philadelphia, Austin, and San Diego. Blame Momofuku's noodley overlord David Chang, perhaps: it's certainly no coincidence that a good number of the new ramen restaurants mimic the sleek wood aesthetic of his landmark New York restaurant Noodle Bar, and the ramen trend has only intensified after the first, ramen-themed first issue of Chang's Lucky Peach was released in 2011. Below, Eater's picks for the 19 most exciting recent editions to the ramen genre across the country.
How creative? How about Paul Qui's East Side King in Austin, which serves a combination ramen/tortilla soup? Or Oiistar in Chicago, where the Pozolmen is a riff on pozole and topped with shredded pork and pico de gallo? The brand spanking new Zen 6 in New York's East Village even has a ramenified take on the California Roll, topped with avocado, tomatoes, iceberg lettuce and bell peppers, while Oakland's Ramen Shop serves up a meyer lemon version of the traditional yuzu broth.
Read More
On Time Out New York Magazine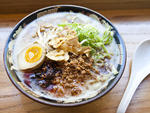 Tantan-men style: Just as New York is currently enamored of Szechuan cuisine's bold heat, Japan embraces the region's fiery flavors in tantan-men, a riff on Chinese dandan noodles. In ramen lore, the dish is widely attributed to Chen Kenmin, a Sichuan-born chef whose restaurant introduced his homeland's cooking to Japanese palates in the late '50s (and whose son, Chen Kenichi, went on to become an Iron Chef).
Where to find it: A house specialty (Tan Tan 6) at casual East Village ramen shop Zen 6, which opened in December and dubs its less-traditional selections "New York Pop," the crimson, chili-spiked bowl includes ground pork, bean sprouts, crispy fried garlic and house-made maayu (garlic oil) with thin or medium-thick, straight noodles. 646-429-8471. $10.75.
Read More